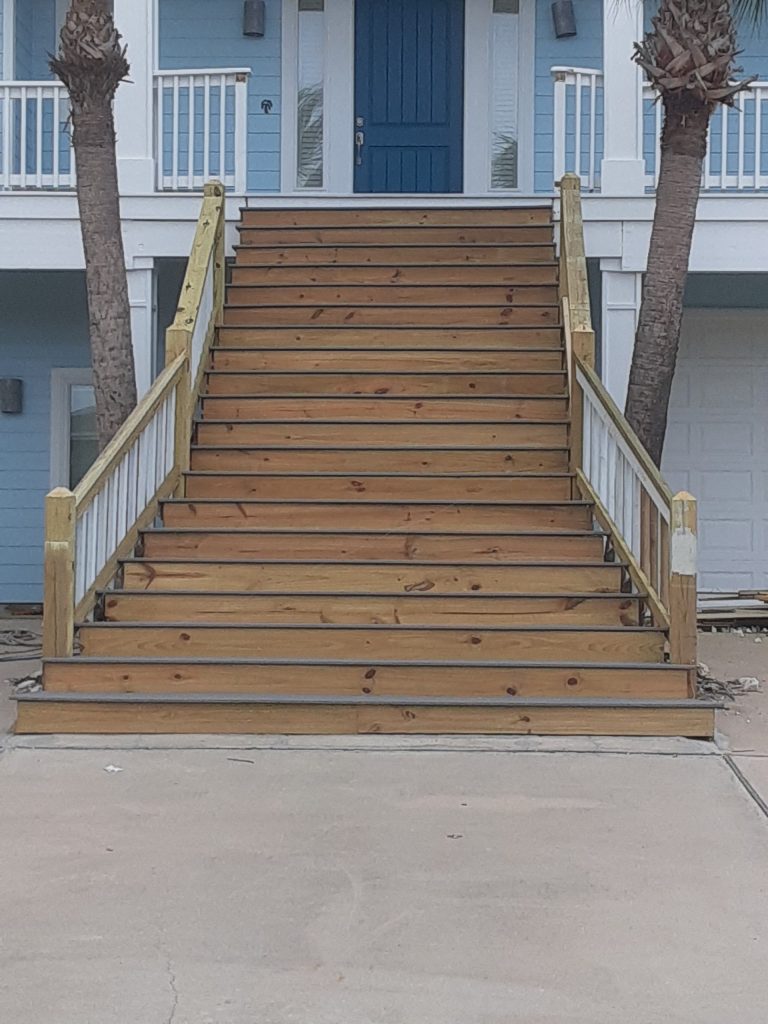 Welcome to Corpus Christi Deck Pros. Are you looking for a reliable, trusted, experienced, and accredited deck builder in Corpus Christi, Texas? Your search ends at Corpus Christi Deck Pros. We are the go-to deck contractor Corpus Christi. Our company has built hundreds of decks in Corpus Christi, Texas. We offer the highest standards of customer service and craftsmanship. Corpus Christi Deck Pros is the deck contractor that you can trust to complete your residential or commercial deck installation using the best craftsmanship and materials. Also, we have built a tremendous track record in the South Texas region by creating true masterpieces that not only have an eye-catching design but also enhance the functionality of the outdoor space and boost the value of the property. Our services include pool decks, deck demolition, deck additions, custom decks, pergolas, covered patios, custom stairs, and more.
About Corpus Christi Deck Pros
We are customer service people! Corpus Christi Deck Pros firmly believes that a satisfied customer is a customer forever. And, we don't just want your first business, but we want your business for life. 98% of our new customers end up being repeat customers. At Corpus Christi Deck Pros, you will be served by friendly, courteous, honest, and skilled experts. You will love our customer service. Our company has many satisfied customers because we treat each customer as a valued client. To us, a customer is not just a statistic or another opportunity to make a sale. A customer means a lot to us. Customers offer us an opportunity to do what we do best. Which is to serve the community by creating the most stylish and functional decks. Corpus Christi Deck Pros values our customers.
Our award-winning customer service team is always ready to listen to your requests and complaints, at any time of the day or the night. We walk by your side from the start of your project to the end. Additionally, we listen to all you have to say and we offer you valuable advice. We are friendly and there are many times we have a good laugh. Most importantly, we do our work in the most professional manner possible to make you another satisfied customer. At Corpus Christi Deck Pros, the customer comes first. We are here because of customers like you and we ensure that all your needs are satisfied. We treat our customers with the highest level of respect.
Our Services
Why let the warm and inviting feeling of home stop at your door? Transform your backyard into an outdoor family space that your neighbors will envy and your family will love. Using pergolas, covered patios, and decks will increase the enjoyment of your home and the value of your property.
An elegant pergola made using artisan wood will be the perfect addition to your outdoor space. It will create a warm and sophisticated space that is perfect for a family barbeque or an evening with the family under the stars.
If you have a swimming pool on your property, consider having a pool deck. This is the place where you will place lounge tables, chairs, and other backyard furniture. A stylish and inviting pool deck will be the perfect place for family fun. Also, a well-constructed pool deck will increase the resale value of your property.
Enhance the use and comfort of your home while raising its value by using covered patios, rooftop decks, deck enclosures, water view decks, elevated decks, and custom decks. When it comes to making your outdoors a place of fun and enjoyment, you will never go wrong with decks. These will completely transform your outdoors from dull and boring to interesting and engaging. They will make your outdoor space more useful and cohesive.
Your time at home is a time to relax. There is no better place to relax than an outdoor space. You can transform your landscape into a beautiful sanctuary that will soothe and calm your mind after a busy week at work by using decks, patios, pergolas, and other outdoor features.
Pool Decks
Do you want a stylish, non-slip, inviting, and well-constructed pool deck in Corpus Christi, Texas? There is only one name you can trust: Corpus Christi Deck Pros. Many deck contractors claim to be the best but most of them are a big disappointment. Choose a pool deck contractor Corpus Christi that is the top choice of many Corpus Christi homeowners and businesses. For many years, we have built trust with the locals because of constructing functional and beautiful pool decks. With us, your pool deck construction needs will be fully met because we are the most experienced and skilled pool deck contractor in Nueces County and the surrounding regions.
Residential Decks
Our passionate and talented team is ready to make your next residential deck building project a success. With each new project, our experts offer artistically minded assistance based on their diverse and extensive knowledge of decks. Our custom residential decks will accommodate your budget, needs, and aesthetic preferences. We are fully committed to excellence and we guarantee top quality craftsmanship. Our designers and builders have the skills and experience to create outstanding high-end residential decks. We will build a residential deck that will enhance the comfort, aesthetics, and use of your residential property as well as raise its value.
Commercial Decks
Corpus Christi Deck Pros has completed hundreds of modern and amazing commercial decks for restaurants, hotels, offices, landscape architects, and property developers, among other commercial clients. We are Corpus Christi's premier builder of commercial decks, commercial entryways, garden environments, patios, pergolas, and other outdoor recreational spaces. At Corpus Christi Deck Pros, we are the commercial deck contractor that you can count on to complete your commercial deck on-budget, on-time, and using the best materials and craftsmanship. We will bring our decades of experience to your project to make it a success. Businesses trust us for commercial decks Corpus Christi because we always keep our word. We never disappoint and we never leave a customer dissatisfied.
Deck Staining
Corpus Christi Deck Pros can take care of all your deck staining needs. Our professionals are skilled in all the techniques that will provide your deck with a high-quality finish. Our expert crew of deck staining professionals has many years of experience in providing top quality deck finishes. You can rest assured that our team will complete your deck staining project to perfection. Our contractors will arrive on time to complete your project professionally. From the moment you receive a quote from us to the moment we complete your project, we take customer service seriously. We will make your customer experience as pleasurable as possible and your project as successful as possible.
When it comes to the best solution for deck repair, turn to the experts at Corpus Christi Deck Pros. Our professional deck repair team is fully licensed, insured, and bonded. We are an esteemed deck repair company preferred, by businesses and homeowners in Corpus Christi, Texas.
Our professionals will make sure your family is safe and your belongings are protected as we complete your deck repair project. We pride ourselves on integrity, honesty, professionalism, and complete customer satisfaction. When you hire us for your deck repair Corpus Christi, you can expect professional service, continuous communication, and quality results.
Corpus Christi Deck Pros is a specialist in pergola design in Corpus Christi, Texas. Whether you want a pergola to cover a walkway, create a shaded area, or to act as a garden or landscape feature, we are your go-to pergola builder. We will design your pergola to match your vision and personal preferences, and help you create the perfect outdoor living space. Our professionals will custom-make and handcraft your pergola. In addition, all our pergolas come with different styles, color options, and features to match your home and your tastes. We are passionate about what we do. We enjoy helping customers to achieve their unique outdoor setting. Our goal is to create an unforgettable experience for you while designing your pergola.
Don't let an inexperienced contractor to design and build your patio. Look for a company that has a proven track record in building covered patios. If you are in Corpus Christi, Texas, or the surrounding areas, we are one of the few trusted contractors in the locality when it comes to building covered patios. And, our team is capable of providing a unique patio design for your project. Apart from providing a sleek and functional design, we offer the best prices in the industry. We will infuse in your project your character and personality to make your patio as personalized as possible. In addition, our professionals will provide reliable suggestions on the appropriate materials and designs to be used in your patio.
Contact Us Today to Make Your Decking Dreams a Reality! Don't just dream about that deck! Make it a reality. We are here to help you. We will guide you by hand until you achieve that dream landscape. Our decking experts listen to your ideas and offer you suggestions on how you can transform your vision into a masterpiece.
Corpus Christi Deck Pros provides many different design options for your commercial or residential decking needs. We have the experience to successfully take your project from a vision to reality. Also, we will create your dream landscape using top quality materials and the best craftsmanship.
It is high time that you make the best out of your outdoor space. Whether you are thinking about a pool deck, a pergola, or a patio, you need a partner that you can trust to undertake the project. That partner is none other than Corpus Christi Deck Pros. Give us a call at 361-317-7361 for a free consultation with one of our decking experts.
Corpus Christi, TX
Corpus Christi TX is a fun place to live and visit. With so many area attractions, you have many choices! The USS Lexington Museum is a floating museum on the iconic ship like no other. Not only can you tour the ship, but this museum offers overnight camp outs, an escape room, a 3D theatre and many more attractions. The USS Lexington Museum is reason enough alone to visit Corpus Christi TX! Additionally, Corpus Christi is home to the Texas State Aquarium. The Aquarium is a state of the art facility that exists to care the Gulf Coast and the aquatic life therein. The most exciting attraction is snorkeling with sharks! That is an experience you will never forget. In addition, spend some time on beautiful North Beach which is located near both these attractions in Corpus Christi.
Also, lets talk about the beaches around Corpus Christi TX! From Mustang Island State Park to Padre Island National Seashore you can't go wrong. The beaches along the Gulf of Mexico are the best beaches to enjoy. Mustang Island State Park is located right on the gulf and offers 5 miles of beautiful beach land. Find some of the best surfing around on North Pakery Beach on Mustang Island. Additionally, Padre Island TX is a perfect place to spend time on the beach. There is great fishing on South Pakery Channel Beach and witness the release of the Ridley sea turtle hatchlings at the Padre National Seashore. With so much beauty to take in you will never want to leave.
Areas We Serve
We offer our deck building services to Corpus Christi TX and the surrounding areas. These areas include North Padre Island, Port Aransas, Aransas Pass, Ingleside and Rockport. Call us today for a free consultation.